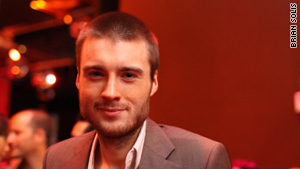 Mashable's Pete Cashmore says real-time communication, Internet TV and social gaming will be big in 2010.
As 2009 draws to a close, the Web's attention turns to the year ahead. What can we expect of the online realm in 2010?
While Web innovation is unpredictable, some clear trends are becoming apparent. Expect the following 10 themes to define the Web next year:
Real-time ramps up
Sparked by Twitter, Facebook and FriendFeed, the real-time
trend has been to the latter part of 2009 what
"Web 2.0" was to 2007
. The term represents the growing demand for immediacy in our interactions. Immediacy is compelling, engaging, highly addictive ... it's a sense of living in the now.
But real-time is more than just a horde of new Twitter-like services hitting the Web in 2010 (although that's inevitable -- cargo cults abound). It's a combination of factors, from the always-connected nature of modern smartphones to the instant gratification provided by a Google search.
Why wait until you get home to post a restaurant review, asks consumer trends tracker Trendwatching, when scores of iPhone apps let you post feedback as soon as you finish dessert? Why wonder about the name of that song, when humming into your phone handset will garner an instant answer from Midomi?
Look out, too, for real-time collaboration: Google Wave launched earlier this year, resulting in both excitement and confusion. A crossover between instant messaging, e-mail and a wiki, Wave is a platform for getting things done together. Web users, however, remain baffled. In 2010, Wave's utility will become more apparent.
Location, location, location
Fueled by the ubiquity of GPS in modern smartphones, location-sharing services like Foursquare, Gowalla, Brightkite and Google Latitude are suddenly in vogue.
As I ruminated in this column two weeks ago, Foursquare and its ilk may become the breakout services of the year ... provided they're not crushed by the addition of location-based features to Twitter and Facebook.
What's clear is that location is not about any singular service; rather, it's a new layer of the Web. Soon, our whereabouts may optionally be appended to every Tweet, blog comment, photo or video we post.
Augmented reality
It's yet to become part of the consumer consciousness, but augmented reality has attracted early-adopter buzz in the latter part of 2009.
Enabled by GPS, mapping data from the likes of Google and the accelerometer technology in modern phones, AR involves overlaying data on your environment; imagine walking around a city and seeing it come to life with reviews of the restaurants you walk past and Wikipedia entries about the sights you see.
When using Layar, for instance, the picture from your phone's video camera is overlaid with bubbles of information from Yelp, Wikipedia, Google Search and Twitter. The challenge for such services is to prove their utility: They have the "cool factor," but can they be truly useful?
Content 'curation'
The Web's biggest challenge of recent years is that content creation is outpacing our ability to consume it: "Information overload" has become an increasingly common complaint.
In the attention economy, with its millions of daily status updates and billions of Web pages vying for our time, how do we best allocate that scarce resource? One solution has been algorithmic: Sites like Google News source the best stuff by technical means, but fall short when it comes to personalization.
In 2008, the answer revealed itself: Your friends are your filter. With the launch of its Facebook Connect program, Facebook allowed sites to offer content personalization based on the preferences of your network.
Meanwhile, Google's Social Search experiment is investigating whether Web searching is improved by using information gleaned from your friends on Twitter, Facebook, Digg and the rest. Increasingly, your friends are becoming the curators of your consumption, from Web links to movies, books and TV shows.
Professional "curation" has its place, too: Who better to direct our scarce attention than experts in their fields? I explored this possibility in a CNN article last month titled "Twitter lists and real-time journalism" .
Cloud computing
Cloud computing was very much a buzzword of 2009, but there's no doubt this transition will continue. The trend, in which data and applications cease to reside on our desktops and instead exist on servers elsewhere ("the cloud"), makes our data accessible from anywhere and enables collaboration with distributed teams.
The cloud movement will see a major leap forward in the first half of 2010 with the launch of "Office Web Apps," free online versions of Word, Excel, PowerPoint and OneNote released in tandem with Microsoft Office 2010.
Next year will also see the launch of Google's Chrome OS, a free, Web-centric operating system that forces us to ask: How many desktop applications do we really need?

2010 Web trends par CNN_International
Rejoignez PSST ! La plateforme d'échanges interprofessionnelle !

envoyez nous vos actualités + inscrivez vous a la newsletter : www.psst.fr
 SOURCE : cnn.com 
 PAR: alexis mouthon 
 ACCÈS DIRECT A LA PLATEFORME: PSST.FR
 UNE INITIATIVE DE: POURQUOI TU COURS? 
 AGENCE DE PLANNING STRATEGIQUE 2.0 
 DIRIGÉE PAR: Jérémy Dumont