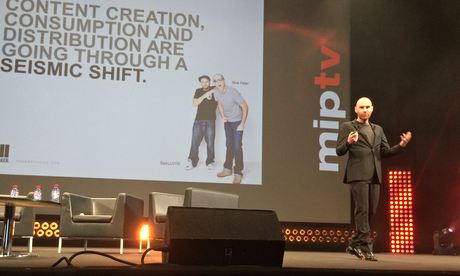 source of article :
http://www.theguardian.com/media/2014/apr/13/miptv-conference-multichannel-networks-mcns-youtube-tv-cannes?CMP=twt_fd
There are new fanbases to be found on YouTube for digital producers and traditional TV firms alike. YouTube loomed larger than ever before at this year's MIPTV programme market and conference, dominated since it was first held in Cannes in 1965 by broadcasters and producers but which now has a heavy input from multichannel networks (MCNs), digital producers and individual YouTubers.
Trends included a shift in the language and key metrics of YouTube. Alex Carloss, its global head of entertainment, suggested the online video giant's power is less about audiences and more about fans. "An audience tunes in when they're told to, a fanbase chooses when and what to watch. An audience changes the channel when their show is over. A fanbase shares, it comments, it curates, it creates," he said.
Michael Stevens of science network Vsauce agreed: "You can build a really big audience on YouTube: they show up, they listen. But a fanbase is going to subscribe and watch everything you make in the future, and tell their friends about you."
MCNs and YouTubers haven't stopped boasting about their view counts, but there was more emphasis on subscribers, comments and shares, and average viewing time for videos: a focus on how engaged YouTube users are, particularly teens and twentysomethings. TV producers are following the migration of these "millennials" to online video. "Every year it gets harder to launch a successful show that attracts a younger demographic, so we have to find them elsewhere. Looking to digital content is crucial," said Keith Hindle, X Factor co-producer FremantleMedia's digital and branded entertainment boss.
This is fuelling new partnerships: Vice Media and Fremantle launched a food-focused online video channel called Munchies at MIPTV, for example, which eschews studio cook-offs and familiar TV chefs. "The reason young people are leaving TV is they don't do things like this: take chances, switch things up, and give the cameras over to 24-year-old kids. TV missed the boat on this kind of content," said Vice CEO Shane Smith.
read the rest of the article : http://www.theguardian.com/media/2014/apr/13/miptv-conference-multichannel-networks-mcns-youtube-tv-cannes?CMP=twt_fd